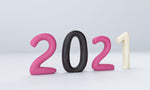 It's been a year, and we're all ready to welcome 2021 with open arms (and hands!).
Include your littles in the New Year's celebration by using playdough to sculpt the numbers of the year everyone can't wait for. Plus, it's a quick and easy way to teach them about numbers!
How to Sculpt the Numbers With Play Dough
Break your ball of dough up into 4 pieces. This part also helps littles learn early math concepts, like counting & what's "a little" and "a lot."

Roll the dough into 4 long snakes.

For the # 2's, help the kiddos place the dough into backward "S" shapes. Then, give the bottom a little pitch in the corner to straighten the bottom part of the 2.

For the 0, place the dough into an oval shape and connect it from tip to tip with a little squeeze.

For the 1, leave your thin dough snake as is!
Happy playing and Happy New Year!