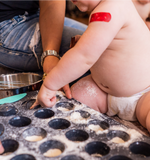 We all have been spending more time at home, but throw in a rainy, snowy or cold day, and going outside for a quick walk or play sesh is virtually impossible. Ugh, that means one less activity for the kids to do. Well, that's our cue!
To get the kids engaged, do a simple activity that extends playtime AND can be used as a means to support transitions or other tasks that need to get done. 
Tips to Make Kids Busy During Rainy Days
Here's an easy one that lets the littles engage in messy play (that's not actually messy) and can help with the transition to bath time:
Create a "sensory kitchen" in the bathtub. Sure, it requires sitting in the bathroom with them, but at least you can take calls from anywhere!
Bring some tools from your kitchen into the shower or bathtub. Fill up a few cups with a little water alongside a pot, pan, bowl or other vessels you have around. You can add some coconut flour if you have on hand to add another texture.  (It's safe to eat raw and washes right away).
Add a spoon or spatula and let your child mix, pour and spill until their hearts' content! Need more water? Just turn on the faucet, and add a little more!
This is a fun (and easy!) way to engage in any messy play. Messy play often holds toddler's attention for longer, but it's not always worth the mess. Bringing art materials (like finger paint, water colors, shaving cream) into the bath engages your children in amazing sensory experiences with nearly no clean up! Just turn on the shower and wash it all away. 
Our favorite part about this activity is that it can also be used as a transition to bath time. Since you're already there, when the play is finished, you can give them a bath. This eliminates the transition of having to stop play to then take a bath. That means one less battle for you that day which is a win in our book!