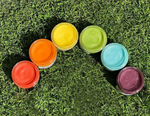 Today, we remember a great man and honor the legacy of Martin Luther King Jr. It's important for us to talk to the littles about the meaning and importance behind MLK Day and explain the impact of his perseverance and work in the Civil Rights Movement.
Tips to Talk About Diversity With Kids
For the extra young ones, it can be tricky to explain, but a great way to start is by talking to them about diversity. In addition to having them play with inclusive toys and reading diverse books, you can use playdough to help explain diversity.
Get all of your different dough colors, and make a ball out of each one. Have the littles look at the different dough balls, feel them, smell them, mix one dough ball with the other—ask them questions like, "Aside from its different colors, does this change the dough at all? Does it feel different?" Nope, it's still the same dough, just a different color.
Then, talk about how people can be like playdough. Just like dough, on the outside, our colors are beautifully different, but we're all still people at our core.