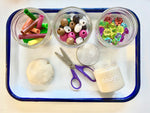 For most of us, the ability to stay focused and productive for the whole work day is a skillset we've had to develop over time.  As adults, we know what works for us: cue the 2 pm coffee runs, jumping jacks between calls & the occasional sweet treat for a much needed sugar rush. 
For our little ones, it's our responsibility to help them organize their day & develop healthy habits for life. 
How to Organize Your Kids' Screen Time Brake with Dough
Virtual learning/ screen time breaks are critical, but more importantly than just "taking a break" is using that break time in a way that actually refills, nourishes and restores. And nothing refuels a child quite like play. 
One easy way to play (especially when you have to get right back to work) is to plan ahead with a tinker tray.
Collect loose parts like gems, beads, pennies, marker caps and pipe cleaners, and place them on a small tray with a jar of playdough. Add scissors for some extra fine motor work!
When the kids are hitting their max, have them take a creativity break using the dough and other items on the tray to unwind and regroup.