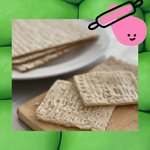 Prep for the big afikomen search with dough matzah!
Here's How to Make a Playdough Matzah
Open a jar of natural colored dough (or any color, really). 

Roll your dough flat (you can use your jar) and use a small knife to cut 4 edges that make a square shape.

Using different tools and loose parts (like straws, keys, forks) make holes and marks in the dough - like the bumps and bubbles in real matzah. 

Wrap your dough matzah in a small fabric or cloth, and hide it around your home with your little one to go on an afk-dough-men hunt!
Chag Sameah!
Tag #thedoughproject in your creations!