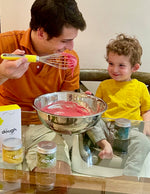 At The Dough Project, we believe in the proecc—especially when that process leads to fresh homemade dough that invites hours and hours of fun for the whole family.
When we set out to package up the DIY experience, we thought a lot—we thought about the recipe, the ingredients, the packaging. The end result? Only the best all-natural ingredients tucked into one little recyclable box and the easiest step-by-step instructions that the littlest chefs can follow. 
But before you whip up a fresh batch of dough as easily as you would a stack of pancakes, here are some pro tips:
Include your children in every step of the process. We designed the DIY recipe so that a toddler could easily do it alongside you. And if you accidentally put in a little too much water, that's okay! Your dough will still come out great - we left plenty of room for error!
Have your little sous chefs help with clean up. Pass them a towel to wipe down their work space. Cleaning up helps them take ownership of the process and develops a sense of responsibility. ***Bonus: It's so satisfying to watch the colored batter drain from the bowl under running water. The littles will love seeing it!
In a rush? Cook the whole batch at once. You can scramble the batter like you would scrambled eggs instead of making pancakes! It's quick, and easy.  Just move the dough around the pan until it's all cooked through.
Snap some pics! Documenting experience is a powerful tool for learning and making connections. The next time you play with your homemade, show the little ones the photos to remind them of when you created it together to inspire conversation.
Don't forget, show us how you dough it! Tag @the_dough_project in your DIY pics!