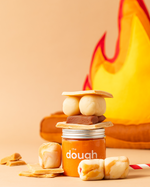 Summer is in full effect, and we are here for it!  One of our favorite things to do is turn our real life experiences into play - to give our kiddos more chances to relive the fun and make it their own.  Inspired by our best summer memories, we created some summer fun play ideas. 
How to "Roast" Play Dough Marshmallows: 
1. Gather some dough + skewers (can be sticks, straws or even real skewers from last night's BBQ)
2. Mold rounded cube shapes out of natural dough from your 9 pack. These will be your marshmallows. 
3. Shape your graham crackers. First mix orange dough with natural dough to create that golden graham cracker color. Roll your dough flat and mold or cut into squares it into small squares big enough to   
**You can also use cardboard scraps for this part if you have it on hand.  We love a mixed media provocation.
4. Make some chocolate pieces. The best way to make brown dough? Mix purple with orange - or, mix a little of all the colors together! 
5. Play! Add your marshmallows to your skewers to "roast" them over your red, yellow and orange dough fire! 🔥  Then assemble your s'mores and share them with lovies, stuffies! 
Don't forget to show us how you dough it @the_dough_project!