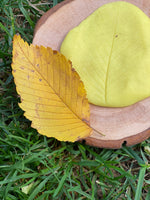 Fall is one of our absolute favorite times of year to create invitations to play. From the beautiful foliage to the seasonal smells of cinnamon and pumpkin spice, the inspiration is everywhere. Here's a super easy activity for incorporating the season into play:
Leaf Prints With Play Dough
Take advantage of the leaves falling off trees, and use them for play. Even if you're not somewhere experiencing a seasonal change, you can still do this activity with leaves found in your backyard or a nearby park!
Take the littles on a nature hunt and have them collect all kinds of fallen leaves—different shapes, colors, textures.

Set up a "leaf print provocation" with a flat surface, fresh dough and the leaves you collected. Add in a playdough rolling pin if you have one handy!

Press one or two leaves into the dough, and invite the littles to do the same and play.
Pro tip: This is a provocation, so it's meant to be open-ended to encourage the kids to think creatively. It's less about the end product of what they make and more about the process of getting there and the experience of making. And if the littles don't seem to be into making fun prints, that's okay! Have them play with leaves in a different way; stand them up to build a dough forest or use the leaves to build silly creatures.
That's the beauty of play—there's no one way to do it.
Show us you dough it, and tag @the_dough_project in your dough adventures!