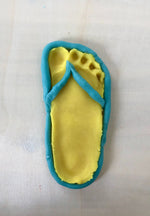 Change up the way you usually play, and this time, smash, smush and stop on dough...with your feet!
Some Fun Ways to Playdough With Your Toes! 
1. Foot print making 
Make a smooth ball of playdough, and use a rolling pin (or some other tool) to make it nice and flat like a pancake.  Make sure it's big enough for a little foot. Put your flat dough on a tray on the floor! 
Then, with bare feet, press all 5 toes into the dough so they all make a mark! (You may have to wiggle them a little ;)
2.  Take it further and age it up! 
What can you do with your foot prints? Get creative with your prints.  Cut them out and see what you can create. 
Can you give your foot a pedicure?!
Make a funny foot face? 
Design a shoe? 
3. Stomp until the colors mix! 
Open your dough jars and remove the dough. 
Place dough in a shallow bin on the floor that's safe for stomping.  Let your littles stomp barefoot on the dough - Be deliberate about which colors you put in the bin together...Instead of putting a mish mash of colors, act strategically - For example, Put out blue and yellow and stomp until you have green! 
Happy Playing!
As always, show us how you dough it! Tag @the_dough_project in your pics!