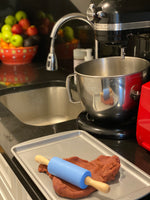 Pretend Playdough Bake in the Real Kitchen! 
Winter calls for lots of home inside days, especially winter during a pandemic...We'll be sharing lots of great ideas to keep play fresh & your little ones busy and engaged. 
Idea #1: Bake for Lovies
Bring your play dough into the real kitchen, and completely change the way your children experience play they've done a thousand times before...A simple shift can go a very long way.  
(TIP:  While you're in there, make your littles a snack, while they make a pretend one.)  
Step 1: Set up your dough, baking tray, playdough rolling pin and any other baking tools you'll need.
Step 2: Talk about what you're "baking" for and what you'll bake.  It can be fun to think about what pretend friends like to eat - Ie: What kind of cupcakes does Bunny like to eat? Does Teddy Bear love all cookies, or just chocolate chip? Decide together and make a plan! 
Step 3: Make your snack out of dough with your littles, and when they're "ready" to go in the oven, actually put them in! Make sure your oven is off and NOT hot, but pretend anyway - wear oven mitts, be extra careful, etc.  
Step 4: Set an oven timer and prepare to "eat" while your cookies are "baking." You can set the table, put out a plate and napkin in front of Bunny's seat, etc...(Keep them in for longer if you want your kiddos to help prepare real snack while the cookies "bake")
Step 5: Set up a picnic style snack to enjoy your cookies once they're ready! Maybe eat your real snack picnic style too 😉 
As always, show us how you dough it! Tag @the_dough_project in your playing pics!