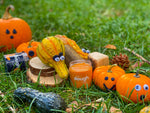 We know 2020 has been spooky enough already, so we couldn't pass up the opportunity to do a super easy, silly craft for Halloween. Forget the tricks 2020 has thrown at us, and treat the little ones to a fun dough activity starring the silliest creatures they can dream up!
Googly-Eyed Dough Monsters
In open-ended classrooms and play, we like to emphasize the use of loose parts without the use of tape or glue to engage children in longer, deeper process-based play. When it comes to holidays and themed crafts, dough makes for the perfect temporary glue!
By replacing glue with dough, the process of making and creating becomes the central focus of play, instead of the finished product. If you glue googly eyes onto a piece of paper or pumpkin, the glue dries and that's it—the end! But when you use dough to stick an eye on, you can create creature after creature and reuse it for your next craft. Repetition is the centerfold of quality play. Each time your little one revisits materials, they approach them with fresh eyes.
This Halloween, use googly eyes and other loose parts, like pipe cleaners and sticks, to create Jack-o'-lanterns and silly dough monsters! As an extra special treat, tag @the_dough_project in your spook-tacular creations for a chance to win our limited edition spooky six pack. The winner will be announced on Halloween!