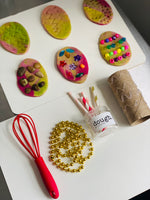 3 Easter Bunny Approved Ways to Play! 
Now that the Easter bunny has delivered all the baskets, it's time to play with your dough! Try these fun ideas to keep the Easter fun going long after Sunday!
White Board Easter Eggs: 
Use a white board to draw oval/egg shapes with a dry-erase marker.
Then use dough to create small shapes to decorate your eggs by rolling snakes, balls and other little shapes to make a design.
Playdough Easter Egg Cookies
Roll out dough so you have a wide flat pancake, and using an oval shaped cookie cutter cut out your playdough eggs.     
Gather loose parts to decorate them - we like using gems, sequins & beads for sparkly easter eggs
3D Easter Eggs
Roll a ball of dough in your hands.  
Mold your dough ball so it becomes an oval shape like an egg. 
Decorate!
Pour a small amount of glitter onto a plate or tray.  Roll your dough egg in glitter to make a sparkly playdough egg (and then have sparkly playdough for days to come! 
Tag @the_dough_doughproject in your creations. 
Happy Easter!
Xo