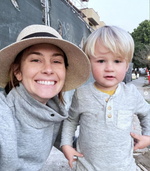 Lauren Breiding is a Clean Living Consultant on a mission to empower you with knowledge on switching to safer products. She has been researching clean products for over six years through her blog Detox Me Tuesday, and finds joy in connecting consumers with brands they can trust. Through her approach you will learn to switch to safer products with ease and without overwhelm. Connect with Lauren on her website
www.detoxmetuesday.com
or
@laurenbreiding
on Instagram.
1. How did you get into the clean life? What was the transition like? 
I learned about the importance of using safer products through becoming an independent consultant with Beautycounter. Once I learned that it was completely legal for the products that we use on our bodies and in our homes every single day to have harmful ingredients I couldn't go back! In 2016 I started outwardly educating because every single circle of friends and family was being affected by infertility, cancers, autoimmune diseases and more. I thought, "If I can be a compassionate voice, empowering people to make one switch to safer at a time then I've got to go for it!"
It is important to have fun with it! There are so many amazing brands (The Dough Project being one of them) that make switching to safer products fun and easy! The first step is to shake off the notion that your home needs to be perfect overnight! That is not the goal. Thankfully our bodies have natural detox processes that are made to support us, but it is when these get overwhelmed or that certain toxins build up in our bodies overtime that you start to see negative effects. The best place to start is with anything you are about to run out of since you need to buy a replacement anyways.
2. Tell us about the role of clean play in your home.
Play is our whole life right now with a two year old boy! I appreciate all the moments that I can stop and give Benjamin my full attention as we dump kinetic sand, make green pasta with our Dough Project dough or shoot hoops outside. He constantly is reminding me to keep a healthy perspective on life and what is important, all while being silly! Currently I am loving getting him involved in what we are doing in the kitchen, cleaning or helping outside! He just wants to be included and learns so much along the way!
3. What are your favorite things about clean mama life - and what are your greatest challenges? 
I love knowing that everything I am using for Benjamin is a safer option! I feel empowered every time I go to buy something and I know I am doing what's best for my family. Having said that, it also removes the stress in those moments when I can't find a good enough option for diapers at the last minute or when we need to use a not so safe sunscreen. It's so important for mom's to remember that while we want to give our children the healthiest options possible, we still need to be able to enjoy life along the way! 
4. How do you guys use dough in your life right now? 
We love it after our nap with little play dough scissors and pasta maker. Of course the greatest always seems to be throwing it like a ball, but it is so fun to watch him learn as he plays. Sometimes I just stare at his little wheels turning as he creates!
5. Any tips for parents interested in turning their homes into cleaner, safer spaces for their families?
Don't stress about having a perfect home overnight and be proud of every single switch to safer you can make! In a 2016 study by the Environmental Working Group, hormone disrupting chemicals were removed from teen girls' makeup and their numbers dropped up to 40% for these chemicals in just three days. You are never too late to start and it is not your fault for not knowing! But use this as the fuel you need to be in charge of what you bring into your home.
Here are three simple areas to start: 
Products you are about to run out of. 

Products you aren't emotionally attached to. 

Products you use every single day. 
A note from Chelsea: Lauren is the best and has inspired so many changes in my home.  Definitely follow along with her instagram journey & reach out if you have any questions! She answers every single email and DM and loves to connect with the community.