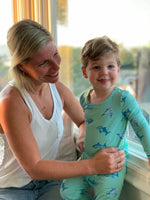 We sat down with Alexis to learn all about her family, her PJ business and how she balances it all!
About Alexis Ross: 
Alexis is a working mom (Physician Assistant in Gynecology) who founded a pajama company with her sister and husband- who also have day jobs! 
They live in Los Angeles with their two kids – Maddie, 8 and James, 3. The idea for Lovey&Grink came about because when their daughter was a toddler, she was particularly sensitive to material. At bedtime, she would constantly complain that her PJs were "itchy" or made her hot at night. 
When they searched for super soft pajamas that she would actually wear, they noticed that most of the softer pajama brands we saw were prone to shrink or really expensive. So they decided to make their own!
Tell us briefly about your experience with the different sensory needs of your children and how you have navigated the process of figuring out what works best for each of them. 
It's so interesting – when we started with our oldest, we really didn't know much about kids' sensory needs or how they process. We have two very different kind of kids in the sensory department. When our daughter was little, she was very sensitive to textures and how things felt on her body. She avoided touching things like sand or slime at first. We had to experiment with a lot of different sensory options, but once she did, she was hooked!
Our son on the other hand is a classic "sensory seeker" - he loves experiencing different materials and textures- he loves playdough, slime, water beads. He really enjoys that kind of sensory stimulation.
A good "sensory diet" is a lot like getting your kids to eat a healthy variety of foods. As parents, we know that it is ok that if our kids don't like something at first, we can approach it from a different angle, be creative or try again at another time! 
 How does "play" play a role in your home? 
Play is obviously so important for childhood development. This is how they work out and make sense of everything they are absorbing throughout the day. Our daughter was always super imaginative – she would create imaginary worlds and situations and invite us on her adventures with her. Our son is obsessed with cars – and he likes to work out different situations he has experienced at school or at home by playing them out as different characters from the Disney Cars franchise.
It's important to us to have a good mix of play time – independent play, play with siblings, and we especially value our whole family play time. The latter usually happens after dinner, where we might go on a family walk around the neighborhood or just enjoy whatever creative scenario our kids have cooked up for us that day.
 Favorite thing about being a mom entrepreneur?! 
 As a woman in today's world, I love showing my kids that I can be a mom and follow my career dreams! 
I also love that our business was started out of a need that we had in our own family and that our PJs have helped other kids and parents have a smoother bedtime. I love hearing from our customers that our PJs have become the only PJs their kids want to wear. Even with my career in medicine, I was always motivated by wanting to help people, so it's incredibly gratifying to hear that we are meeting a need and that people love our products.
Tell us what you love about dough!  
 We love dough in our house! It's something everyone can play with! It allows for incredible sensory input, creativity and fun! My son will turn his playdough into a racetrack and place his cars on the track and play for hours! My daughter will create these fantastic dessert stations with such fine detail and imagination! 
Any parenting tips from a hustling mama of 2?!
Being a working mom is all about the multitasking! I try to get a bit of everything in my schedule- a good workout in the morning, a solid workday when my kids are at school and some family time with our favorite dough in the afternoon!