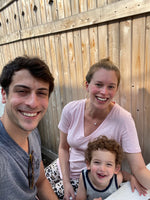 This month, we spoke with Abbie Marshall, a NYC mama and big dough fan! Abbie works in public relations specializing in travel, hospitality and lifestyle. She lives in Manhattan with her husband and toddler, and has baby #2 on the way. We asked her to share a little about how she utilizes play with dough in her busy home. 
- Tell Us Briefly About Your Family and How You Guys Play in Your Home
We live in NYC with our two year old. Our son enjoys his independent playtime early in the morning, and we play together pretty much all throughout the day. He loves his toys - especially trucks, dinosaurs and his play grill - in addition to crafts activities like stickers, coloring and of course - dough! 
- Can You Share With Us the Role Dough Plays in Your Home 
Dough plays so many roles in and out of our home! It keeps our son entertained while we make breakfast, makes an awesome and fun rainy day activity, and we even keep a jar of dough in our stroller to play with in the park.
We love to make "rocks" out of our dough and fill up our toy dump trucks. We bring dough to his grandparents houses and they love to also play with it with our son.  We use the jars of dough and accessories to practice colors, shapes, counting and sorting.
- What Do You and Your Husband Love About Dough? 
Honestly, we love that it keeps our son entertained for extended periods of time!  And he's content using it again and again.  He continues to use the accessories we've gotten in our dough kits (even from 6+ months ago!) like popsicle sticks, feathers, buttons, straws, etc. We love to watch how he plays with these items and see how he makes something different every time he's playing. 
- What Does Your Toddler Love About Dough? 
He loves to mush it around and make different shapes. L

at

ely he's been challenging us to create different animals out of the dough - from cows to dogs and birds. Turns out we are not great sculptors, but we try our best!