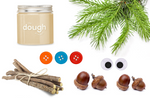 So it's snowing outside and it's magical, but the only thing you can think about is "WTF am I going to do with the kids all day?!" That's our cue! Bad weather days are the perfect time to get cozy and have fun in the kitchen. 
Whip out some DIY Mix and make homemade playdough with the kids (don't worry, it comes with easy step-by-step instructions and all the ingredients you'll need)! For double the fun, have them build a doughman with your fresh dough.
Pro Tips for Building a Doughman
Before you whip up a fresh batch of dough, here are some pro tips:
Include the littles in every step of the process. We designed the DIY recipe so that a toddler could easily do it alongside you. And if you accidentally put in a little too much water, that's okay! Your dough will still come out great.
Have your little sous chefs help with clean up. Pass them a towel to wipe down their work space. Cleaning up helps them take ownership of the process and develops a sense of responsibility. Bonus: It's so satisfying to watch the colored batter drain from the bowl under running water. The littles will love seeing it!
To set up your doughman station, look around the house for any loose materials (think: buttons, pom poms, pipe cleaners, whatever you have around!).  Scrap pine needles from your Christmas tree, are a great addition.  Break out the natural dough and let your littles build the best doughman they can dream up—the bigger, the better!
We can't wait to see what you'll build. Tag @the_dough_project in your doughmans!