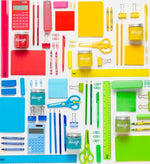 We can't say we're ready to head back to school, but we are kind of excited!  Here are some of our favorite tips and tricks for using play for school readiness. 
How to Use Dough for School
Tip #1:
Use dough to support early literacy + math skills. Dough is an awesome learning tool and can be used to support growth in nearly every subject!
Forming Letters & Numbers: 
Roll dough into long snakes to shape letters and numbers. This can be extended for older children by spelling out words from the shaped letters.

Draw letters on a chalk board or dry erase board and "trace them" with dough.  You can make snakes, balls or just torn pieces of dough to cover the lines of the letters. 
Counting: 
Draw #1s 1-5 on a piece of paper or white board.  Challenge your little to create little dough balls or other shapes to place under each number.  One ball under #1, two balls under #2, etc. 
Tip #2:
Find time to just play! Squeeze, press, mold dough to strengthen little fingers and hands.  Not only does the sensory activity help ground, focus & soothe busy bodies, but the fine motor work builds muscles that are critical for early writing skills.  
Tip #3:
Use dough as a stress ball! Have a little who's tempted to start playing with dough instead of just holding it.  Teacher hack: Fill a latex balloon with dough instead! 
Tip #4:
Create a busy box for wind-down play time before homework or bed time.  Include things like dough, crayons and paper, stickers, lovies, fidgets, etc. Swap out the materials from time to time to keep the box exciting, and make it special by decorating the box itself, keeping it in a special place, etc.  It helps to set a time limit before play starts and provide a 5 minute warning before it's time to clean up.  This little bit of independent play time can really help your little ones focus on the more difficult tasks that come after. 
Tip #5
Back to school means back to playdates and dough is the perfect activity to break out when friends come over -  especially our DIY mix!  Whip of a batch of fresh dough together in the kitchen, and then play with it together - there will be plenty of dough so you can even wrap some for your guest to take home!